ARC 2020 Blog from Bord - 5, Finish and award ceremony
Details

Created:

20 December 2020
The ARC 2020 was an outstanding experience for all sailors on the Montana.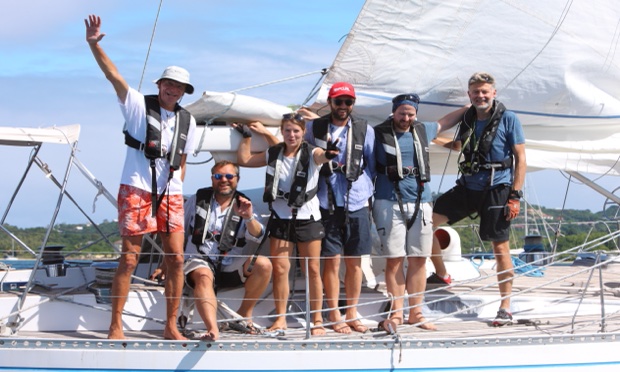 On the day before last we were able to unpack the big spinnaker again. This went very well at the beginning until a little rain shower came up behind us. We thought we could evade, but we didn't quite succeed. The wind got stronger. It was quite difficult to keep the boat under control and the command came to furl. When we were ready, the shower was almost over, so we left the spi up. A few minutes later it was quiet again and we were able to leave the spi up until sunset. After this experience we wanted to take it down for the night. Unfortunately the wind got lighter during the night, so that we lost a few miles to our competitors on the last night on the ocean. We crossed the finish line 3 hours behind the "Peter von Seestermühe" at 10:47 LT. Tim Wright, the ARC photographer, took beautiful photos of us in the morning sun and when we entered the marina we were warmly welcomed by the other boats.
After the first rum punches from the St. Lucia tourist office, the COVID test was elated. Since our friends had to be moored on the other jetty, there was a private party on board the Montana. The next day we were allowed to move to the main marina after negative test results. In the next few days we discovered St. Lucia with trips to Marigot Bay and the Pitons. After the return there was unfortunately no official result - the WCC made it exciting. The award ceremony was then a great event. Because of Corona, this took place on the jetty and an excursion catamaran served as a stage. We met with our friends on the "Emily Morgan". To our surprise we were called up as 2nd in class 1B, which of course we celebrated appropriately. Afterwards it turns out that there was a misunderstanding with the engine hours of the "Peter von Seestermühe" and our result was corrected to 3rd place. But since no other boat of class 1A was faster, we also achieved 3rd place among all cruisers. A result that made us very happy and also a little proud.