Cruise report from the SY Montana (holiday trip)
Details

Created:

07 January 2022
Dolphins and sea turtles
A cruise report from the Christmas cruise 2021/22 on the SY Montana: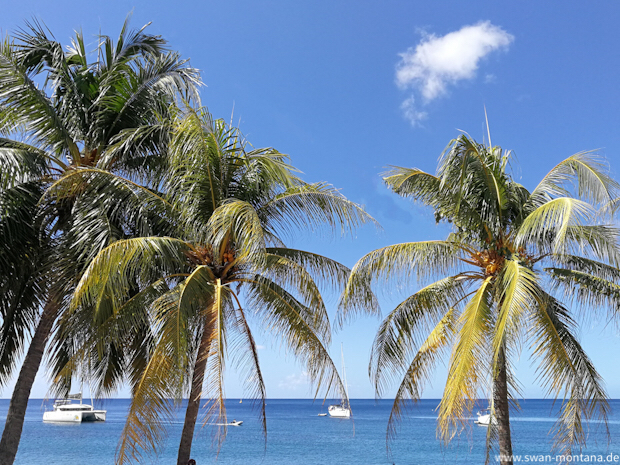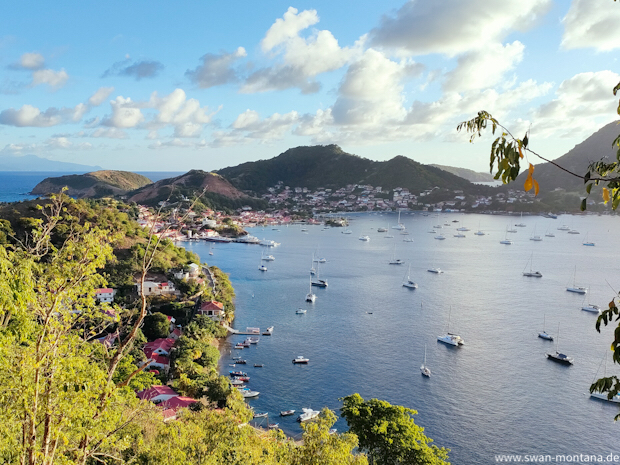 "From December 19, 2021 to January 6, 2022, we, four people from Switzerland, experienced a sailing trip on the Swan Montana sailing yacht with skipper Markus Bocks. For two people, Ralf and Martina, it was already the second trip with Markus, for Werner and Susanna the first. We arrived at Marina Le Marin in Martinique late in the evening of December 19th and spent the first morning replenishing the ship's supplies. Markus had just returned from an Atlantic crossing, the well-known Rallye Arc, where he had won two awards. His reports on the days at sea and the competition were very exciting. Already on December 20th in the late afternoon we set sail for St. Anne and anchored in Anse Caritan in the south of Martinique. There we spent the night Second time on the Montana The very next morning we went on a very nice excursion to the Plage des Salines, with a short hike and swimming in the sea.
We continued in the next 2 days in the north of Martinique to St. Pierre and Dominica to Portsmouth. These two long trips were due to the Corona situation, as we would have needed a PCR test for Dominica. So we raised the yellow flag in front of Portsmouth - which means that we are in transit and would not go ashore. Sailing in up to 25 knots of wind was a great experience and we were accompanied for a while by a pod of dolphins. So on December 24th we went to the buoy in Terre-de-Haut near the Îles des Saintes, a group of islands off Guadeloupe. Markus recommended us a very good restaurant where we could enjoy a delicious Christmas dinner. On December 25th we snorkeled at the Plage de Pompierre, in the evening we enjoyed homemade potato salad with ham and red wine on a viewpoint below Fort Napoléon. The sunset offered us a grandiose spectacle.
After a further journey to the Marina Bas-du-Fort near Pointe-à-Pitre, Guadeloupe, we had the opportunity to fill up our supplies, fill up with water and petrol. We took a trip to Pointe-à-Pitre and wanted to go to the cultural museum (Memorial ACTe) - unfortunately it was closed on Monday. Via the beautiful but very wavy bay of Petit Havre we continued to the «pancake», the island of Marie-Galante, where we anchored in Saint-Louis. We took the opportunity to snorkel and swim again.
The last day of the year we decided to buoy again in îles des Saintes, Terre-de-Haut. There we again enjoyed an excellent dinner in the same restaurant as at Christmas. At midnight we popped the champagne corks on the Montana.
We spent the first day of the new year in the Bay of Grande Baie on the island of Terre-de-Bas. There we were able to snorkel extensively and even swim with sea turtles. The colorful underwater world with coral reefs and lots of fish was beautiful. We brought coconuts on board from a shore excursion to Poterie Fidelin.
It was time to head south again. On January 2nd we embarked on a long voyage of about 75 nm, 11 hours, passing Dominica and anchoring again at St. Pierre in Martinique.
From St. Pierre we visited a rum distillery in the neighboring town, the small but fine Neisson distillery in Le Carbet. On January 4th, Markus gave us a nice last day in a bay, in Petit Anse Arlet. There we were again able to marvel at a beautiful underwater world with reefs and fish while snorkeling.
On January 5th we arrived at the Marina Le Marin, where we did our PCR test the next morning. Unfortunately, our Caribbean adventure was already over on January 6th. During our trip, we experienced Markus as a level-headed skipper with local knowledge, a likeable, funny, open person who knew interesting things to say about the places we sailed past. Despite the restrictions with Corona, we were able to enjoy a fantastic sailing trip."