| | |
| --- | --- |
| Typ / type: | Atlantic crossing |
| Check-in: | 14 JUN 2020 - Marina d'Angra, Terceira, Azores |
| Check-out: | 24 JUN 2020 - Puerto Deportivo, Vigo, Spain |
| Bookings: | Buchbar / bookable |
| Preis / price: | 990,- € + Bordkasse / board cash |
Segelerfahrung erwünscht / sailing skills appreciated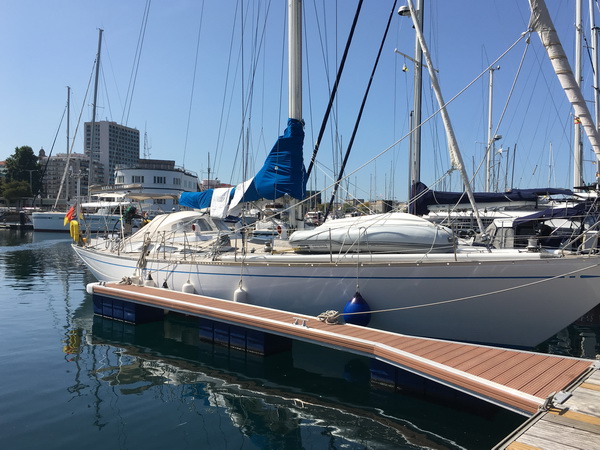 Wir treffen uns am 14. Juni in der Marina d'Angra auf der Azoreninsel Terceira auf der Montana.
Ein 900 Meilen Törn für alle, die mal Hochseeluft schnuppern möchten, aber nicht gleich mit einer Atlantiküberquerung anfangen möchten.
Je nach Wetterlage haben wir mehrere Optionen. Es geht entweder gleich auf den Atlantik Richtung Vigo, oder wir legen noch einen Zwischenstopp in der Hauptstadt Ponta Delgada ein. Kommen wir gut voran und liegen wir gut in der Zeit, können wir auch noch die Galizische Küste erkunden, mit ihren schönen Buchten und kleinen, netten Marinas.
Nach Ankunft in Vigo beschließen wir unsere Überführung in einem "open air" Restaurant in der Altstadt.
Weitere Einzelheiten des Trips versenden wir gerne auf Anfrage unter This email address is being protected from spambots. You need JavaScript enabled to view it. oder nach Kontaktaufnahme im Kontaktbereich.
----------------------------
We meet on 14th of June at the Marina d'Angra on the island Terceira on board the Montana.
A 900-miles trip for all who likes to scent the open sea air, but do not want to start with an Atlantic crossing.
Depending on the weather we have several options. Either we are heading for the Atlantic and Vigo straight away or we have a stop in the capital city Ponta Delgada first. If we make good progress and are well in time, we can additionally explore the Galician coast with its beautiful bays and nice little marinas.
After arrival in Vigo we finish our passage in an "open air" restaurant in the historic district.
We like to send further details about the trip on request via This email address is being protected from spambots. You need JavaScript enabled to view it. or after contact via the web page.