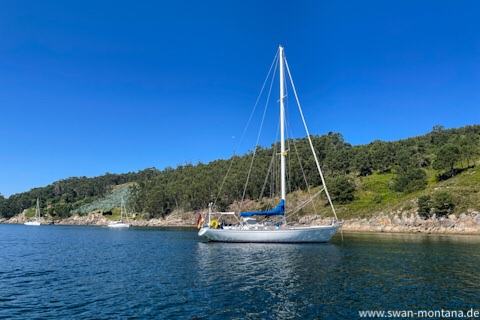 Typ / type:
Check-in:
10 SEP 2022 ➟
Marina Davila Sport, Vigo, Spain
Check-out:
20 SEP 2022 ➟
Marina de Cascais, Lissabon
Bookings:
Preis / price:
SONDERPREIS:
990 € + Bordkasse /
board cash
Keine Segelerfahrung erforderlich / no sailing skills necessary
Wir treffen uns am 10. September in der Marina Davila Sport in Vigo an Bord der Montana.
Galizien und die portugiesische Küste.
Nach einem Besuch der Altstadt von Vigo geht es los mit einem kurzen Schlag nach Baiona, wo wir unterhalb der Festung in die Marina gehen. Auf dem nächsten Teilstück nach Viana passieren wir die portugiesische Grenze. Wer möchte kann den Berg zum Castello erklimmen und wird belohnt mit einem wunderschönen Ausblick. Weiter geht es nach Porto, wo wir eine Verkostung des gleichnamigen Weines genießen können. Weitere Stopps entlang der Küste sind Nazare und Cascais. Nazare ist das Paradies für Bigwave Surfer. Dass hier ein internationaler "Wind" weht spürt man an jeder Ecke. Für einen Ausflug zum Surferstrand bietet sich die Trambahn an. Sie geht über den Hügel und dann wieder runter zum Strand.
Cascais um die Ecke von Lissabon ist der vorletzte Stopp - wieder mit einer quirligen Altstadt aber auch mit versteckten, ruhigen Ecken und Parks.
Auf unseren Urlaubstörns gehen wir bezüglich Hafentage gerne auf die individuellen Wüsche unserer Gäste ein.
Weitere Einzelheiten des Trips versenden wir gerne auf Anfrage unter This email address is being protected from spambots. You need JavaScript enabled to view it. oder nach Kontaktaufnahme im Kontaktbereich.
Buchungsanfrage
Für den Fall, dass der von Dir ausgewählte Törn nicht mehr verfügbar ist, kannst Du eine Alternative auswählen. Diese Eingabe ist optional. Um besser planen zu können benötigen wir auch ein paar Informationen von Dir. Bitte fülle uns diese ebenfalls aus.
Wir freuen uns auf Dich.
---
Wie geht es weiter?
Wenn Du "abschicken" geklickt hast, werden wir uns umgehend bei Dir per E-Mail melden (in der Regel binnen 24 Stunden). Meist kann Deine Anfrage in dieser E-Mail direkt von uns bestätigt werden. Du bekommst mit dieser E-Mail ein Anschreiben und ein Merkblatt.
Für Atlantik Passagen möchte Markus jedoch vor einer Bestätigung noch ein Telefonat mit Dir führen, um Dich näher kennen zu lernen und die gegenseitigen Erwartungen abzugleichen.
Selbstverständlich kannst Du uns jederzeit per E-Mail unter This email address is being protected from spambots. You need JavaScript enabled to view it. kontaktieren und wir versuchen alles zu beantworten, was Du noch wissen möchtest.
Nach unserer Bestätigung UND der Überweisung einer Anzahlung von 20% der Törngebühr ist der Törn für Dich gebucht und der Platz an Bord wird für Dich freigehalten. Das Konto ist dem zugesendeten Anschreiben zu entnehmen. Die Restzahlung für den Törn wird bis spätestens 4 Wochen vor Törnbeginn fällig.
Für den seltenen Fall, dass Du Dir einen Platz für eine Atlantik Passage durch eine Anzahlung reservieren möchtest, aber das Telefongespräch mit Markus nicht zeitnah stattfinden kann, weil er gerade unterwegs ist, würdest Du selbstverständlich Deine Anzahlung zu 100% zurückbekommen, wenn der Törn für Dich nicht zu Stande kommt.
We meet on 10th September in the Marina Davila Sport in Vigo on bord the Montana.
Galicia and the Portuguese coast.
After a visit of the historic district of Vigo, our first sailing route goes to Bayona, where we take the marina beneath the castle. On our next section to Viana, we cross the Portuguese border. You can climb the hill towards the Castillo and you will be rewarded with a beautiful view. Porto is further on our route, where we can enjoy a tasting of the same-named wine. Other stops along the coastline can be Nazare and Cascais. Nazare is the paradise for bigwave surfers. You can feel the international flair at every corner. For a trip to the surfers you can take the tram over the hill down to the beach.
Cascais, around the corner of Lisbon is the second last stop, another active historic district but also with some hidden quiet places and parks.
On our vacation trips, we are happy to consider our guests' individual wishes concerning port days and routing.
We are looking forward to sending further details of the trip on request at This email address is being protected from spambots. You need JavaScript enabled to view it. or after contacting us in the contact area.
booking request
You may select an alternative trip with your booking request in case the selected one is not available. For our planning, we kindly ask you to give us some more information about yourself. Please fill out the respective fields.
We are looking forward to meeting you on the Montana.
---
What happens next?
Once you have clicked "send", we will contact you immediately by email (usually within 24 hours). In most cases, your request can be confirmed directly by us in this email. You will receive a cover letter and a fact sheet with this email.
For Atlantik crossings, however, Markus would like to have a phone conversation with you before confirming your request, in order to get to know you better and to compare mutual expectations.
You can always contact us by email at This email address is being protected from spambots. You need JavaScript enabled to view it. and we will try to answer everything you want to know.
After our confirmation AND the transfer of a deposit of 20% of the cruise fee, the cruise is booked for you and the place on board is kept free for you. The bank account can be found in the letter sent to you. The final payment for the cruise is due 4 weeks before the start of the cruise at the latest.
In the rare case that you would like to reserve a place for an Atlantic crossing by a deposit, but the phone call with Markus can not take place in time because he is out sailing, you would of course get your full deposit back if the trip does not take place for you.