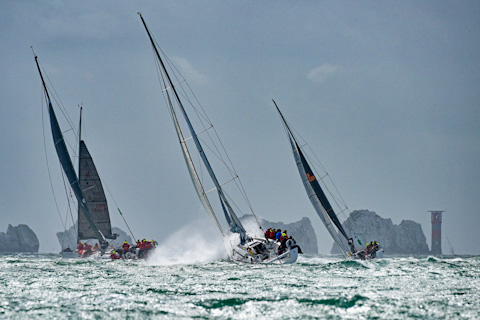 Typ / type:
Regatta
Check-in:
16 JUL 2023 ➟ Cowes, Isle of Wight, UK

Check-out:
31 JUL 2023 ➟
Cowes, Isle of Wight, UK
Bookings:
Preis / price:
2090€ + Bordkasse /
board cash
Segelerfahrung erforderlich / sailing skills necessary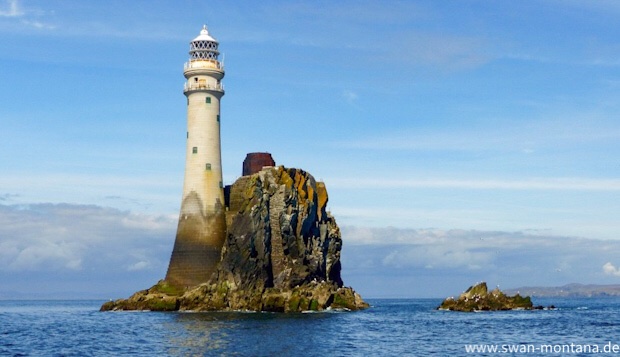 Fastnet Challenge 2023
- English version below -
Es ist wohl das bekannteste Segelrennen der Welt. Auch die Nichtsegler wissen mit dem Begriff etwas anzufangen. Dies hat auch mit dem Jahr 1979 zu tun. In diesem Jahr fuhr die gesamte Flotte in einen Jahrhundertsturm, der beim Start noch nicht abzusehen war. Daraus wurden entsprechende Lehren gezogen, die zu verbesserter Sicherheitsausrüstung geführt haben. Ferner gelten hohe Anforderungen, welche jedes Boot und jede Crew zu erfüllen haben, um überhaupt am Rennen teilnehmen zu dürfen.
Veranstalter ist der in der Segelwelt sehr hoch angesehene "Royal Ocean Racing Club" kurz RORC. Er veranstaltet weltweit Hochseeregatten. Kein Wunder, dass sich hier die Creme de la Creme des Segelsports trifft. Im Jahr 2023 können wir mit der Montana dabei sein.
Weitere Informationen über das Fastnet Race sind
hier
zu finden.
Ein Video vom Start 2021 ist
hier
.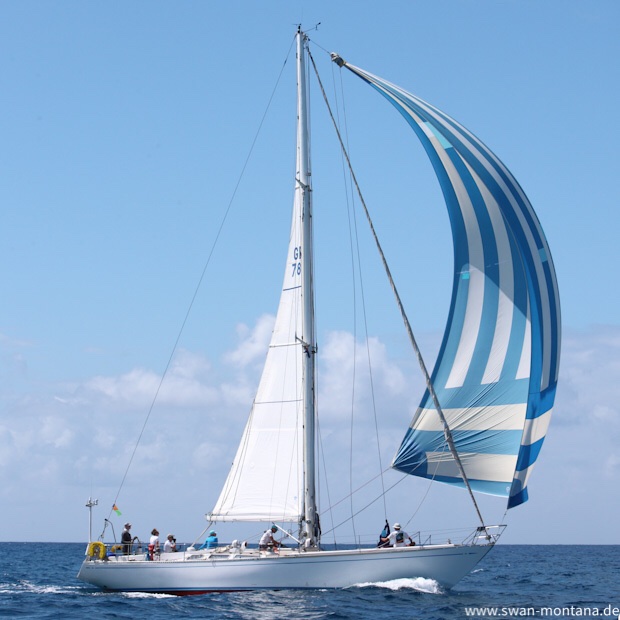 Die Voraussetzungen
Für eine sichere Teilnahme an der Regatta ist es unerlässlich, dass alle Crewmitglieder das Boot kennen und schon einmal miteinander gesegelt sind. Ferner muss ich als Skipper meine Crew kennen und die Stärken und Schwächen der Segler einschätzen können. Nur so können die Positionen im Team optimal verteilt werden.
Voraussetzung des Veranstalters ist, dass mindestens 50% der Crew im selben Jahr schon mindestens 300 Seemeilen Hochseeregatta auf dem Schiff gesegelt sind. Da ich hier im Vorhinein nicht unterscheiden möchte, mache ich das zur Voraussetzung für die gesamte Crew. Dies bedeutet, dass jeder Teilnehmer im Vorfeld eine oder mehrere Regatten auf der Montana gesegelt sein soll. Hierfür bietet sich unter anderem die vom 20. bis 24. Februar 2023 stattfindende RORC Caribbean 600 an. Sie startet und endet in Antigua.
Außerdem werde ich mit der Montana rechtzeitig im englischen Kanal sein und im Rahmen der "RORC Series of Races" im Juni und Juli 2023 Mitsegelmöglichkeiten anbieten, um die notwendigen Regattaerfahrungen zu erlangen.
Als weitere Voraussetzung des Veranstalters müssen 2 Crewmitglieder über ein aktuelles Sea Surival Training verfügen (nicht älter als 5 Jahre). Ich werde bis dahin mein Sea Surival Training auffrischen und ein weiteres Crewmitglied muss sich bereit erklären, an einem solchen Training teilzunehmen.
Weitere Informationen über die RORC Caribbean 600 sind hier zu finden.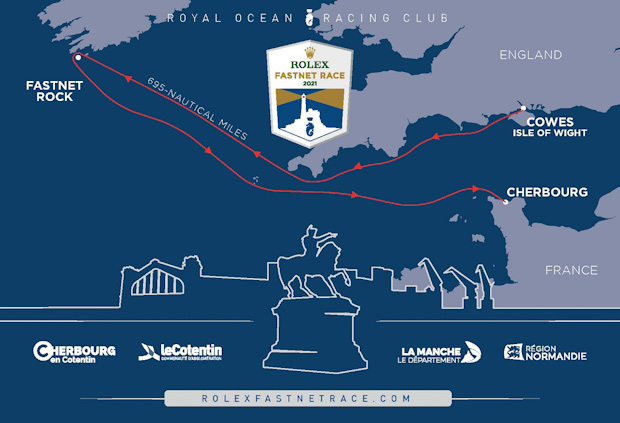 Zeitplan

Die Termine des Fastnet Race und der RORC's Series of Races 2023 stehen noch nicht endgültig fest und werden an Interessenten sobald möglich kommuniziert. Ich rechne mit Anfang August 2023 für das Fastnet Race.
Wegen Bootsvorbereitung und Rücküberführung vom Zielort werden vor und nach dem Rennen weitere 2 Tagen eingeplant. Ab spätestens Ende Juni wird die Montana im englischen Kanal sein. Ist der Terminplan für die Regatten publiziert, werde ich eine konkrete Planung ausarbeiten.
Der veröffentliche Terminkalender der Veranstalters ist hier zu finden.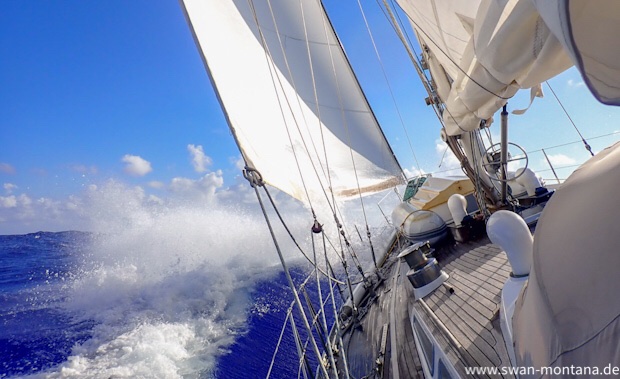 Organisation
Die Besatzung soll beim Fastnet Race aus 9 Seglern bestehen. Die Montana hat 6 Kojen, also wird es das System "Hot Bunk" geben. Das bedeutet, dass in derjenigen Koje geschlafen wird, die gerade frei ist.

Das Wachsystem besteht aus zwei 4er-Teams, also 4 Crewmitglieder auf Wache, 4 auf Freiwache - Wechsel alle 4 Stunden. Ich als Skipper stehe ausserhalb des Wachsystems, um für Segelwechsel, Navigation und Taktik frei zu sein. Für die Tage vor und nach dem Rennen kann es also notwendig sein, dass Crewmitglieder an Land schlafen müssen.
Preis
Für den 10-Tage Törn des Fastnet Race liegt der Preis bei 2090€ + Bordkasse.
Für Mitsegler des Fastnet Race werden die Vorbereitungsregatten mit einem Rabatt von 50% angeboten.

Interessenten melden sich bitte direkt per E-Mail an This email address is being protected from spambots. You need JavaScript enabled to view it..
Buchungsanfrage
Für den Fall, dass der von Dir ausgewählte Törn nicht mehr verfügbar ist, kannst Du eine Alternative auswählen. Diese Eingabe ist optional. Um besser planen zu können benötigen wir auch ein paar Informationen von Dir. Bitte fülle uns diese ebenfalls aus.
Wir freuen uns auf Dich.
---
Wie geht es weiter?
Wenn Du "abschicken" geklickt hast, werden wir uns umgehend bei Dir per E-Mail melden (in der Regel binnen 24 Stunden). Meist kann Deine Anfrage in dieser E-Mail direkt von uns bestätigt werden. Du bekommst mit dieser E-Mail ein Anschreiben und ein Merkblatt.
Für Atlantik Passagen möchte Markus jedoch vor einer Bestätigung noch ein Telefonat mit Dir führen, um Dich näher kennen zu lernen und die gegenseitigen Erwartungen abzugleichen.
Selbstverständlich kannst Du uns jederzeit per E-Mail unter This email address is being protected from spambots. You need JavaScript enabled to view it. kontaktieren und wir versuchen alles zu beantworten, was Du noch wissen möchtest.
Nach unserer Bestätigung UND der Überweisung einer Anzahlung von 20% der Törngebühr ist der Törn für Dich gebucht und der Platz an Bord wird für Dich freigehalten. Das Konto ist dem zugesendeten Anschreiben zu entnehmen. Die Restzahlung für den Törn wird bis spätestens 4 Wochen vor Törnbeginn fällig.
Für den seltenen Fall, dass Du Dir einen Platz für eine Atlantik Passage durch eine Anzahlung reservieren möchtest, aber das Telefongespräch mit Markus nicht zeitnah stattfinden kann, weil er gerade unterwegs ist, würdest Du selbstverständlich Deine Anzahlung zu 100% zurückbekommen, wenn der Törn für Dich nicht zu Stande kommt.
Fastnet Challenge 2023
It is probably the most famous sailing race in the world. Even non-sailors know this regatta. This also has to do with 1979. That year the entire fleet drove into a storm of the century that could not be foreseen at the start. Corresponding lessons have been drawn from this, which have led to improved safety equipment. Furthermore, there are high requirements that every boat and every crew must meet in order to be allowed to participate in the race at all.
The organizer is the "Royal Ocean Racing Club" (RORC), which is very highly regarded in the sailing world. He organizes ocean races all over the world. No wonder that the cream of the crop of sailing meets here. In 2023 we can be there with the Montana.
More information about the Fastnet Race can be found here.
A video from the start of 2021 is here.
The conditions
For a safe participation in the regatta it is essential that all crew members know the boat and have sailed together before. Furthermore, as a skipper, I have to know my crew and be able to assess the strengths and weaknesses of the sailors. This is the only way to optimally distribute the positions in the team.
The organizer's requirement is that at least 50% of the crew have sailed at least 300 nautical miles of high seas regattas on the ship in the same year. Since I don't want to differentiate here in advance, I make this a prerequisite for the entire crew. This means that each participant should have sailed one or more regattas on the Montana in advance. Among other things, the RORC Caribbean 600, which will take place from February 20 to 24, 2023, is ideal for this. It starts and ends in Antigua.
In addition, I will be in the English Channel with the Montana in good time and offer opportunities to join the "RORC Series of Races" in June and July 2023 in order to gain the necessary regatta experience.
As a further requirement of the organizer, 2 crew members must have current Sea Surival Training (not older than 5 years). Until then, I'll be refreshing my Sea Surival training and another crew member must agree to take part in such a training.
More information about the RORC Caribbean 600 can be found here.
Time schedule
The dates of the Fastnet Race and the RORC's Series of Races 2023 have not yet been finalized and will be communicated to interested parties as soon as possible. I expect the Fastnet Race to start in August 2023.
Due to the preparation of the boat and transfer back from the destination, a further 2 days are planned before and after the race. The Montana will be in the English Channel by the end of June at the latest. Once the schedule for the regattas has been published, I will work out a specific plan.
The published calendar of the organizer can be found here.
Organization
The crew of the Fastnet Race should consist of 9 sailors. The Montana has 6 berths, so there will be a "hot bunk" system. This means that you sleep in the bunk that is currently free.
The guard system consists of two teams of 4, i.e. 4 crew members on watch, 4 free - change every 4 hours. As the skipper, I am outside the watch system in order to be free for changing sails, navigation and tactics. For the days before and after the race, some crew members may have to sleep on land.
Price
For the 10-day trip of the Fastnet Race the price is 2090 € + board cash.
For fellow sailors of the Fastnet Race, the preparatory regattas are offered with a discount of 50%.
If you are interested, please send an email to This email address is being protected from spambots. You need JavaScript enabled to view it..
booking request
You may select an alternative trip with your booking request in case the selected one is not available. For our planning, we kindly ask you to give us some more information about yourself. Please fill out the respective fields.
We are looking forward to meeting you on the Montana.
---
What happens next?
Once you have clicked "send", we will contact you immediately by email (usually within 24 hours). In most cases, your request can be confirmed directly by us in this email. You will receive a cover letter and a fact sheet with this email.
For Atlantik crossings, however, Markus would like to have a phone conversation with you before confirming your request, in order to get to know you better and to compare mutual expectations.
You can always contact us by email at This email address is being protected from spambots. You need JavaScript enabled to view it. and we will try to answer everything you want to know.
After our confirmation AND the transfer of a deposit of 20% of the cruise fee, the cruise is booked for you and the place on board is kept free for you. The bank account can be found in the letter sent to you. The final payment for the cruise is due 4 weeks before the start of the cruise at the latest.
In the rare case that you would like to reserve a place for an Atlantic crossing by a deposit, but the phone call with Markus can not take place in time because he is out sailing, you would of course get your full deposit back if the trip does not take place for you.