Typ / type:
Urlaub / vacation
Check-in:
08 JAN 2022
Rodney Bay Marina, St. Lucia
Check-out:
22 JAN 2022
Port Louis Marina, St. Georg's, Grenada
Bookings:

Ausgebucht / fully booked

Preis / price
1780 € + Bordkasse / board cash
Keine Segelerfahrung erforderlich / no sailing skills necessary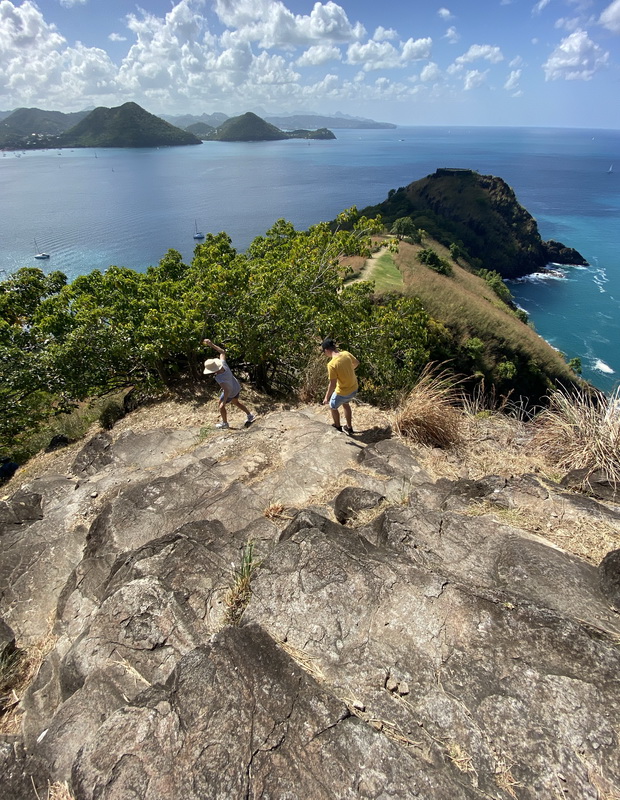 Wir treffen uns am 8. Januar in der Rodney Bay Marina auf St. Lucia an Bord der Montana.
Wir segeln im traumhaften Revier der Windward Islands, zwischen Martinique und Grenada. Die Grenadines sind unbestritten der schönste Teil der kleinen Antillen mit ihren traumhaften Tobago Cays.
Unser erster Schlag geht nach St. Lucia, wo wir in der Rodney Bay ankern können, um einen Ausflug auf die Hügel von Pigion Island zu machen. Von hier hat man einen wunderschönen Blick über die Bucht. Zwei weitere schöne Stopps sind in St. Lucia möglich. Als Gast der Marina von Marigot Bay hat man Zugang zum Pool des dazugehörigen Hotels und kann dort einen entspannten Tag verbringen. Auch ist das Ankern zwischen den Pitons im Süden der Insel ein unvergessliches Erlebnis.
Danach geht es weiter über St. Vincent nach Bequia, der nördliche Eingang zu den Grenadines. Nun gibt es verschiedene Möglichkeiten: Mayreau mit Lobsterdinner am Strand, Union Island mit seiner Happy Sunset Bar, und natürlich die Tobago Cays. Hier wartet die Karibik mit voller Schönheit auf. Unbewohnte Inseln, Palmen, weißer Strand mit türkisfarbenen Wasser, tauchen mit Rochen und Schildkröten.
Zum Ende des Törns erreichen wir Grenada, wo viele Buchten darauf warten, erkundet zu werden. Der Regenwald lockt mit eindrucksvollen Wanderungen und versteckten Wasserfällen. Die Hauptstadt, St. Georges, ist eine quirlige Stadt mit tollem Gewürzmarkt. Schnorchel-Fans können den Unterwasser Skulpturen Park besuchen.
Das Feiern kommt in der Karibik natürlich auch nicht zu kurz. wenn wir Glück haben, erleben wir eine Full Moon Party auf Union oder Carriacou.
Auf unseren Urlaubstörns gehen wir bezüglich Hafentage gerne auf die individuellen Wünsche unserer Gäste ein.
Weitere Einzelheiten des Trips versenden wir gerne auf Anfrage unter This email address is being protected from spambots. You need JavaScript enabled to view it. oder nach Kontaktaufnahme im Kontaktbereich.
----------------------------
On 8th January we meet in the Rodney Bay Marina, St. Lucia on board the Montana.

We are going to sail in the paradisaical sailing area of the Windward Islands between Martinique and Grenada. With its fabulous Tobago Cays, the Grenadines are undisputedly the most beautiful part of the Lesser Antilles.
Our first leg goes to St. Lucia, where we can anchor at Rodney Bay to make a trip onto the hills of Pigion Island. From hereyou have a beautiful view over the bay. There are two more nice stops possible in St. Lucia. As guest in the Marigot Bay Marina you have access to the pool area of the associated hotel and you can enjoy a rexaled day there. Also the anchoring between the two famous pitons in the south of the island is an unforgettable experience.
Hereafter the trip is via St. Vincent to Bequia, the northern entrance of the Grenadines. Now there are different options: Mayreau with lobster dinner on the beach, Union Island with its Happy Island Bar and of course the Tobago Cays. Here the Caribbean comes up with its pearl of beauty: Uninhabited islands, palms, white beaches with turquoise blue water, diving with rays and turtles.
At the end of the trip we will reach Grenada, where a lot of bays are waiting for us to be explored. The rainforest offers sensational hiking and hidden waterfalls. The capital, St. Georges, is a busy town with a terrific spice market. Snorkeling fans can visit the underwater sculpture park.
Party of course will never come up short in the Caribbean. If we are lucky, we will experience a Full Moon Party on Union or Carriacou.
We like to send further details about the trip on request via This email address is being protected from spambots. You need JavaScript enabled to view it. or after contact via the web page.