| | |
| --- | --- |
| Typ / type: | Atlantic crossing |
| Check-in: | 06 NOV 2020 - Muelle Deportivo, Las Palmas, Gran Canaria |
| Check-out: | 09 DEC 2020 - Rodney Bay Marina, St. Lucia |
| Bookings: | Buchbar / bookable |
| Preis / price: | 3900,- € + Bordkasse / board cash |
Segelerfahrung erwünscht / sailing skills appreciated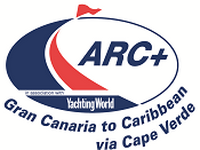 Das Segelereignis zum Jahresende. Ein "Must Do" für jeden Segler.
Wir segeln mit ca.150 Yachten über den Atlantik. Immer noch unvergleichlich: Die Atmosphäre, die Kameradschaft, das Erlebnis.
Bei entsprechend früher Ankunft in der Karibik werden wir natürlich auch hier noch etwas segeln.
Die genauen Daten der ARC+ für nächstes Jahr sind noch nicht veröffentlicht. Es könnte ungefähr so aussehen:
10 Nov: Start in Las Palmas, Gran Canaria
15-17 Nov: Ankunft in Mindelo, Sao Vicente
21 Nov: Start von den Kapverdischen Inseln
3-8 Dez: Ankunft in Rodney Bay Marina, St. Lucia
11 Dez: Siegerehrung in St. Lucia
Weitere Informationen unter This email address is being protected from spambots. You need JavaScript enabled to view it. oder nach Kontaktaufnahme im Kontaktbereich.
-----------------------
We are sailing together with approx. 150 Yachts across the Atlantic: The atmosphere, the teamspirit, the experience is still without comparison.
When we arrive early in the caribean, we will sail here a little bit more.
The exact dates of the ARC+ next year are not published yet, but it could be like this:
10 Nov: Start in Las Palmas, Gran Canaria
15-17 Nov: Arrival in Mindelo, Sao Vicente
21 Nov: Restart from Cape Verde
3-8 Dec: Arrival in Rodney Bay Marina, St. Lucia
11 Dec: Prize giving in St. Lucia
We like to send further details about the trip on request via This email address is being protected from spambots. You need JavaScript enabled to view it. or after contact via the web page.